Close
Loading...
Securon Seat Belt - Auto Lap & Diagonal - Black (5051/15)
Single
£38.50
Description
Shipping Explained
Description:
Securon Seat Belt - Auto Lap & Diagonal - Black (5051/15)
Safety is of upmost importance when out on the roads, therefore it is vital to yours and your passenger's safety and also a legal requirement that you wear a seatbelt at all times. It is not only vital that you simply wear a seatbelt but also that is meets the current British road safety standards. Securon supply the automotive industry with a wide range of seatbelts for a variety of situations, all of which have been designed to meet both British and International safety standards. This auto rear lap and diagonal seat belt is a static seat belt, made from strong, durable and effective webbing designed to withstand any impact if in an accident. The buckle comes fitted with a robust plastic and metal buckle and fastening, that has been designed with a twin release buckle for extra reassurance should the buckle become jammed in an accident. This seat belt would be a suitable replacement for any car's auto rear seat belt whether you simply need to change it as part of a restoration project or more importantly if your existing one is damaged or has been used in accident. Since being founded in 1973, Securon has grown to be Britain's leading manufacturer of seat belts and automotive safety equipment. Securon pride themselves on their design and manufacturing process that produces high quality safety harnesses, which meet not only British safety standards but also international standards. Their range has developed over the years to encompass a wide range of automotive sectors, including domestic, industrial, medical and motorsport.
Total Length up to 314cm excluding buckle. Buckle on Metal Strap 15cm.

Auto Lap & Diagonal Seat Belt
Strong polyester webbing
2"/47mm wide Retracting Lap & Diagonal belt.
Emergency Locking Retractor (ELR) locks in an emergency.
Vertical Mounting Retractor.
Guide/runner to position webbing and reduce friction.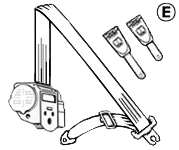 Shipping
SHIPPING IS FREE* for orders of £75 and over , regardless of the weight of your order.
We've tried to keep all other shipping costs as low as we can.
Carriage starts at just £0.95 (inc VAT) for small items, with our most common courier rate set at £4.99 for orders of 5kg (enough for 5 litres of oil).
How long will it take to get my order?
We give an estimate of delivery dates as you shop and in your basket. The vast majority of items are held in stock and dispatched from our UK warehouse and we'll do all we can to get your order to you as quickly as possible.